FAQs
Why use The X-Team?
What makes us unique is our experience and our dedication to you, our client. We believe we are in a people business providing protection for the health and investment of you, your family, and business. Our experience is unparalleled in this area, as outlined in other parts of this web site. Our two oldest team members started in the exterminating business in eastern North Carolina in 1973! Our dedication to continuous, on going training is top notch. We constantly look for all levels and areas of training, so we may do a better job of safely protecting you as Pest Management Professionals. As we said on our home page, 'The safe protection of YOU and YOUR environment is our primary concern!' Also, our integrity and dedication to honest dealings with our clients is utmost in our daily lives. Even today with all the regulations, there are still those in this business that are not exactly honest in dealing with prospects and customers. Whether you like it or not, we are going to tell you what problems you have or don't have and the least expensive way to solve those problems. We sell based on your need, not our greed!
---
Does my Home need termite protection?
A home is one of the most expensive things anyone will ever buy. That is why people get homeowner's coverage to cover fire and storm damage. You have fires and storms covered, but what about termites? Termites cause more damage to homes each year than fires and storms combined. The longer you wait, the worse it gets! There are only two types of homes – those that have termites, and those that will have termites. Just think – your most valuable investment in life is or will be attacked by damage causing insects! The X-Team's job is to give you peace of mind. Knowing that your home is covered by treatments, inspections, re-treatments, and damage repair for as long as you own it means you've chosen the right company.
---
Does the mulch around my house make a difference?
Yes-TERMITES get into any kind of mulch except gravel, stone chips, brick chips, etc. There is no reason to change your mulch. The chemical barrier around the exterior perimeter of your home or business will protect you from attack. PESTS like any mulch. Ants, crickets, out door roaches, pill bugs, millipedes, etc. like the temperature and moisture that mulch provides. That is why we do an exterior treatment as a regular part of our pest service. Each case is unique, so our termite and pest services are designed just for your situation.
---
What exactly does your termite coverage plan include?
Our coverage plan includes several fail-safes to ensure your home will be safe from termites and termite damage. The first thing we do is determine and execute the treatments necessary to protect your property from termite attack. We guarantee these treatments for one year. The second thing we do is inspect your home at least once each year for termites or termite damage. If you think you see anything suspicious, you may call for additional inspections at any time. If any termites do show up, we re-treat your house at no additional cost to you. Lastly, to back up our guarantee, we cover the structure of your home as well as the contents for new damage from termites for up to $25,000. Also, we offer you the opportunity to renew/extend your coverage year by year for as long as you own your home. There is never an additional cost no matter how many years you own your home.
---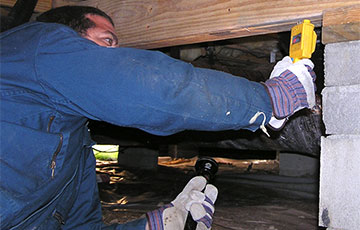 Your coverage plan sounds pretty good, but how does The X-Team's treatment work?
Our primary attack against termite infestation is the liquid termiticide barrier applied to the soil around and under the structure of your home. The specific termiticides we use are Premise® and Termidor®. These are good for your home for several reasons. The best thing about them is that you will never notice them! They have no odor. The other remarkable thing about these chemicals that distinguishes them from other termiticides, is they work in two distinct ways. First, they work like traditional materials. As the termites enter the treated zone, the active ingredient begins killing the termites. Unfortunately, if the termites do not remain in the treated zone long enough to pick up a lethal dose, a traditional chemical would be ineffective. However, Premise® and Termidor® stick to the termites, so when they go back to the colony and start moving throughout, they spread the chemical around. Eventually the active ingredient reaches a level that starts to kill off the colony. Talk about a guarantee! If you are worried about the safety of your pets and children coming in contact with the chemical, there is no need to be. We always follow manufacturer's label guidelines and good industry practices. Safety is our number one concern.
---
This all sounds great! How much does it all cost?
That depends on the house. Construction varies from building to building. This creates varying conditions conducive to termite attack. However, our inspection and analysis that are used to customize a comprehensive protection plan just for your house are free. The actual cost of the plan will be presented to you after the inspection. In some cases, a full treatment is not required to begin your termite coverage plan.
---
What if I have bugs other than termites?
There are many bugs that infest homes and businesses. A different approach has to be taken to stop or prevent them. This is known as Pest Control or Integrated Pest Management. Although the materials and procedures used in pest control are different than termite protection, the X-Team does have pest programs that are designed to both treat an existing problem and to act as a preventative program. Our pest coverage plan is very similar to our termite plan. Many people have our regular pest service, as well as our termite service to prevent problems before they start.
---
What do you do for pest control?
Our regular pest control service is done on a quarterly basis so that once every three months we treat inside and outside your home. The most common pest can vary from season to season, so we treat for it and any others that may become a problem during the three months after treatment. We will also treat for pests if you ever need it in between quarterly services at no extra charge. For one single cost, over a dozen different pests are covered under our program. We use odorless materials similar to our termiticides that can be applied while you are in your home. If you need to make any special preparations for your safety before our arrival, we'll notify you ahead of time. We normally call each quarter when your regular service is due to set up a convenient day and time for your service. Our pest service is always customized to your needs and circumstances. We will even help you learn how to get rid of and prevent pest problems yourself.
---